Because I couldn't think of a better title, but I thought of more non-relevant stuff to say…
Here's wishing my Grandma Betty a belated 84th birthday! We celebrated last night by going to the bar. She can drink me under the table no doubt. I hope to have as much vigor as her at that age.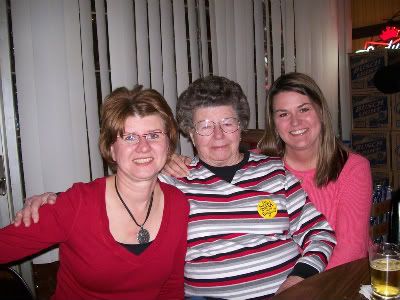 Her pin says "I've survived damn near everything!" seen here with my Aunt Squeak and me.
I highly admire other bloggers that pour themselves out there like Heather B. Armstrong of Dooce.com (who is also full of vigor). I can totally relate to her as I've been criticized for expressing my opinion, as the Wall Street Journal addressed, yet readers keep coming back for more. Only difference, I don't have a husband to manage my advertising – any takers? 🙂
I absolutely hate how vehicles decrease in value the minute you drive them off the lot. When I bought my Pontiac SV6 new in 2005, I thought it fit all my needs and I would drive it until it died. Well, I thought wrong. Not only do the kids think they are now too old to be seen in a "van", I've had an itch for a new vehicle as well. I'm leaning towards a Crossover with a third row of seats. I've been eye'ing the GMC Acadia for awhile now, but I just saw an ad for the 2009 Dodge Journey – I love the back-up camera and built in GPS; the kids liked the built-in pop coolers! One of my friends (who works for Chevy) told me to hold out to see Chevy's new Traverse which will be replacing the TrailBlazer next year. Why can't Ford make a good crossover breed? They have the best service department near me (My son's car is a Ford). And being a woman who knows nothing about cars, I calculate service into my final decision.
And last, but not least, I leave you with this youtube video. My friend, Jon, met a girl online who ended up looking nothing like her photo. She admitted she photo-shopped herself, so when I saw this, I laughed and forwarded it to him asking if this was her?
[youtube]N1TLLqp1wgc[/youtube]
The following two tabs change content below.
Single Mom. Shoe Lover. Coupon Queen. Blogger. Affiliate Marketer. Fun Gal. And CEO of Kim's House.
Latest posts by Kim Rowley (see all)