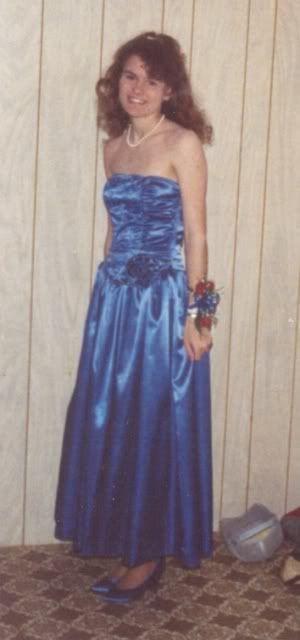 Long live the 80's!  First I posted a video of me from 1987.  Then Sam Harrelson posted Shawn Collin's passport pic from 1987 (nice bangs buddy).  Now Brian Littleton announced that ShareASale is hosting an 80's prom themed party at the upcoming Affiliate Summit West 2009 in Las Vegas. Attendees can submit their prom photos to possibly be used for the invitation, and they'll display all of them at the party.  This is going to be so much fun!  I already have my rad leg warmers and jelly bracelets packed.  I couldn't find the professional pics from either prom with my #13 date, but I found this one taken at my dad's house before my junior prom in 1989 (my grandma sewed my dress).  My dad still has that same paneling in his house.  And did you know they still make dyeables pumps?  Like gag me with a spoon.
Update: my photo was picked and used on the ShareASale invitation! I wish I could find mine to scan in.
The following two tabs change content below.
Single Mom. Shoe Lover. Coupon Queen. Blogger. Affiliate Marketer. Fun Gal. And CEO of Kim's House.
Latest posts by Kim Rowley (see all)